Visit the Night Rainbow Website here.
Site Projects presented our 2013 public art commission: Night Rainbow | Global Rainbow New Haven, a laser light sculpture by American artist Yvette Mattern, to kick-off citywide celebrations of the 375th Anniversary of New Haven. The exhibition ran for four consecutive nights, beginning April 24th, 2013.
The artwork utilized specially-designed lasers to project a large-scale abstraction of a natural rainbow. Originating from the top of East Rock Park, the beams crossed above the Green, Interstate Highway 95, West Haven and finally diminished to a colorful glow over Long Island Sound.

Global Rainbow was initially created for one-night projection with limited technology in New York City on MLK Day in 2009. The artwork has since been exhibited in: Berlin (From One to Many); Toulouse and Nantes, France and Utrecht, Netherlands. Global Rainbow launched the London 2012 Cultural Olympiad in three regions in the UK: the Northeast, Northwest and Northern Ireland. Recently, the artwork was shown in Metz, France and months later, in New York City in collaboration with the Art Production Fund (Global Rainbow: After the Storm).
This laser light sculpture by Yvette Mattern projects the full spectrum of the rainbow [ROYGBIV] using high specification lasers that can be seen for over 35 miles.Here was the trajectory. Click on any map for a higher resolution image.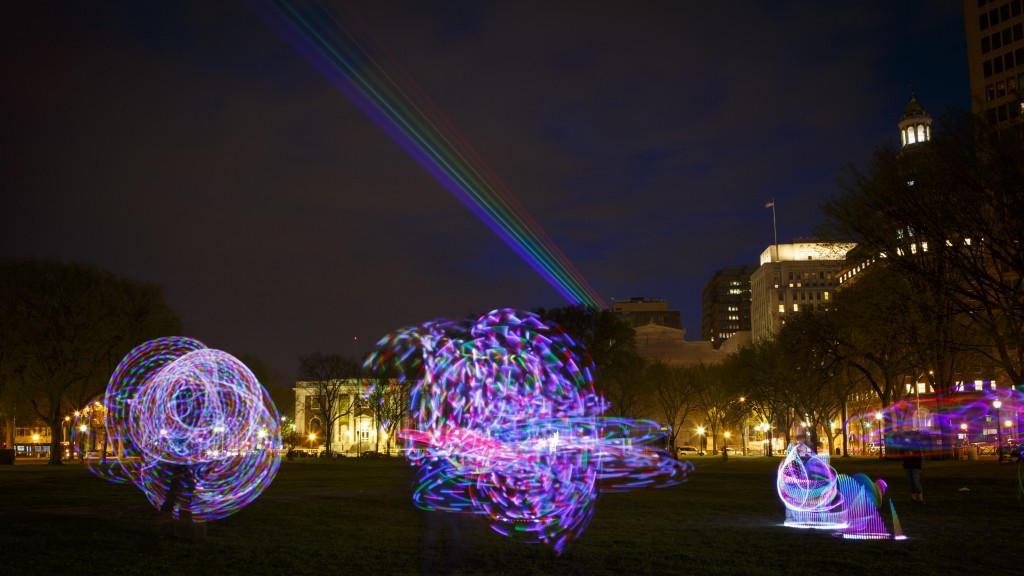 Yvette Mattern (born San Juan, Puerto Rico) is a New York and Berlin based visual artist whose work has an emphasis on video and film, which frequently intersects performance, public art and sculpture. Her work has been exhibited internationally.
Yvette Mattern received her MFA in New York City from Columbia University's Film Division in 1987. She has worked on and collaborated with many artists on film and theater projects including Cindy Sherman's theatrical feature 'Office Killer', Al Pacino, Nicolas Cage, Diller+Scofidio and The Builder's Association among many others.
Her ongoing monumental laser light installation Global Rainbow has been presented over fifteen times since 2009 including: launching the London 2012 Cultural Olympiad in the Northeast, Northwest England and Northern Ireland.
Additional Global Rainbow presentations include: Transmediale 2010 in Berlin, Nantes, France, Nuit Blanche Metz, Toulouse, France, New York City with Art Production Fund, New Haven, CT with Site Projects, Nuit Blanche Toronto, Londonderry, Northern Ireland and a special presentation in Pittsburgh with Lightwave International.
The Global Rainbow installation beams seven rays of high specification laser light, representing the spectrum of the seven colors of the rainbow. The artist had been inspired by seeing an unusual rainbow in a beautiful spot at 'Walden Pond' in Massachusetts. Mattern aims to connect all demographics in a beautifully engaging experience. She sees her work as a visual translation of hope and peace.
"As the Mayor of New Haven, I enthusiastically endorse Site Projects' proposed exhibition … This dramatic piece will illuminate the skies over New Haven … [and] be a beacon, drawing crowds of spectators and tourists to the City. … Site Projects has a history of bringing high quality art exhibitions and cultural events to New Haven and the City has been supporting their projects since 2004."
John Destefano
Mayor of New Haven
"Thousands of Europeans have now experienced the power of this artwork, which has drawn huge crowds who quietly witness its beauty. This installation promises to be one of New Haven's most visually stunning and compelling cultural events of 2013."
Jock Reynolds
Director, Yale University Art Gallery
"[Yvette Mattern] promises to invite every member of our community to look up and contemplate just how far our light can shine. New Haven is a town of many languages … Yvette's project will speak to us all. To whom does a rainbow not speak? … Yes. We have Turner's rainbows at the Yale Center for British Art. But Yvette's will become our rainbow, filling the air that we all breathe."
Bill Brown
Director, Eli Whitney Museum

"Market New Haven promotes the City as a unique and attractive destination with 'something for everyone' … It is for this very reason that I endorse Site Projects' commitment to host … Night Rainbow. We hope to attract thousand of visitors to New Haven … We have witnessed first-hand the quality of public art projects Site Projects has brought to our city since 2004 and we hope to add Ms. Mattern's Night Rainbow to their impressive portfolio."
Anne Worcester
Chief Marketing Officer, Market New Haven, Inc.
The Importance of Art in Education: Teacher Workshop
On March 1, 2013, 16 specially selected teachers, representing 12 New Haven schools, attended a meeting with Site Projects. Their task was to brainstorm the integration of Site Projects' 2013 public art project with their current curricula. Immediately following the workshop, teachers began developing their own ideas. Local educators and aspiring teachers have begun to embrace the idea of integrating the artwork into their lessons with an enthusiasm that proves the importance of art in education. Check out the video below!
FOLDING EXERCISE 1 - NIGHT RAINBOW | GLOBAL RAINBOW NEW HAVEN
Click on the images below to save or print them. Enjoy!
The Science of Art: Marvin Chun Lecture
How does color affect human perception? Yale Professor, Marvin Chun, explored this phenomenon as part of The Science of Art Lecture / Workshop Series for Night Rainbow | Global Rainbow New Haven. Here are some photos from that day.